Thiruvananthapuram, the capital of Kerala, IT hub of Kerala and 'Evergreen city of India' (Mahatma Gandhi). The land of exquisite Culture, Art and incredible Architecture.
Speaking of architecture, one of the most beautiful Hindu shrines is located in this city, Sree Padmanabha Swamy Temple. The temple has 100 foot 7 tier Gopuram and an 80 foot flagstaff in front of the main entry. Besides the huge structures it also has beautifully sculptured granite pillars with elaborate carvings. It is a testimonial for the Vishvakarma Sthapathis in sculpting this architectural masterpiece.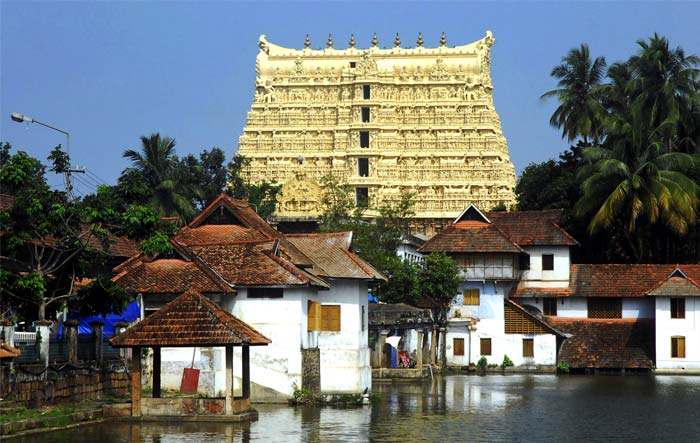 The story of temple establishment differs with the mouth it comes from. According to one story the idol came into existence due to a sage named 'Divakara Muni' an extreme Lord Vishnu devotee whose devotion led Vishnu to take the form of a child and stay with the sage. One day, as a part of a 'leela', the child swallowed the Sage's 'Salagrama' which made him angry and hit the child.
Disheartened child Lord Vishnu vanished from the sage's sight saying "To see me now, you will have to come to Ananthan Forest". The sage looked for the forest for several days and finally with the help of a local lady found it. He entered the forest and prayed to Lord Vishnu. Pleased Lord Vishnu appeared in his 'Anantha Shayana' posture, so huge that the sage could not see. So, he requested Lord Vishnu to shrink down to a size 3 times the size of his 'Yoga Dand'. Thus came the idol of Sree Padmanabha Swamy Temple.
According to historians, everything we see has a legend and a History a Myth and a Reality.
So, what is the reality of this peculiar Hindu shrine?
The history we know about Sree Padmanabha Swamy Temple dates to 500 B.C. The structure we see today was developed by then ruler of Travancore Shree Anizham Tirunaal Marthanda Verma. Long time ago a fire destroyed entire temple except the idol of the deity which had small wear and tear in that accident which was later repaired.
The idol is not typical stone or metal structure. it was made by a special mixture of different sand/soil, trees and water from different rivers and 12008 salagrams which then was solidified with the help of 'Katumsharkara Kootu'. Hence no 'Abhisheka' is done on the idol.
Several myths of 'Palazhi' (Sea of Milk) beneath the idol is famous and backed by the story of a priest who accidently dropped a lamp breaking a small fraction of the stair. it is said that a stream of milk started pouring out of it.
Although the Padmanabha Swamy Temple is surrounded by a plethora of legends and myths, it also home to many amazing and mysterious reality.
One such breathtaking findings was recent when the Supreme Court issued an order to open the 'Nilavara' of the temple. There are 6 rooms A, B, C, D, E and F from which E and F are huge halls and C and D are rooms opened in every 6 months during temple fete.
But the rooms A and B were still an enigma. A committee was formed to open these rooms of which Justice C.S. Rajan was a member. In his description of the room A known as 'Bhandaravaga' had an iron door which opens to a giant wooden door which opens to a small dark room. one of the walls were movable which was a heavy rock which took 6 adults to move. Behind the rock was a deep stairway towards the dark underground. With the help of fire force and oxygen cylinders the team went inside the deep chamber and were astound by the view.
Gold coins and plates, Rubies, Diamonds and other precious stones, coins of Greek, Roman and Arabic origin and more were found there worth 1.20 lakh crore which is just the material value.
Where did all this wealth come from?
Then ruler of Travancore declared himself as a servant of Lord Vishnu and gave all his wealth, property and land to the Deity.
After room A was opened it was the turn for room B. But it could not be opened. Why would that be? Were the stories about the 'Bharatakon Nilavara' cannot be opened true?
According to some believers the room B had no keyhole thus cannot be opened. Some said it was locked by a mystical 'Navaswara' lock and 'Nagapasha Bandhana'. Where some believed that if 'The Garuda Mantra' was chanted in certain rhythm the vibrations will open the door. If tried to open without following the said steps disaster was confirmed. the entire city will be doomed, drowned by the water or many snake bite incidents killing everyone in Thiruvananthapuram. Even a scientific reason was given for not opening the room according to which the room was filled with Argon and can cause fire destroying everything around it when exposed to air. Well, that myth was busted instantly as Argon is an inactive gas and can not cause any fire…….SHOCKING!!!
Then what made room B impenetrable?
OXIDATION, yes due to the rust the team could not open the door of room B. According to Justice C.S. Rajan, he saw the door of room B and confirmed that it had a keyhole and due to rust it was tough to open the door. By the time they were about to be successful the royal family got the stay orders.
Later an Amicus curiae named Gopala Subramanyan was appointed to study about the room B and shocking truth came out. According to his report Room B has been opened at least 7 times in the past. It was recently opened in 1881 to check accounts in which at least 12000 crores worth of property was confirmed. In today's time it's worth would be somewhat 800 million INR.
We cannot blame the curious minds of ours who wants to know more about this 'Room of Secrets, Myths, Legends, History and shocking Realities'. But somewhere I wish it not to be open ever not because of the fear of 'DISASTER or DEATH' but of the fear of the number of SWISS accounts it will help open.