He is fondly called as the snake man. He has credited with catching 50000 snakes. He dedicated himself to an extremely dangerous and uncommon profession for over almost three decades. Wondering what he used to do?
Animals are always a fascination for the human kind, especially snakes. They are fascinating, dangerous and scary.
Well, we have seen television channels showcasing the exciting life journey of snake catchers.
And we have spent days, looking at the screen in bewilderment
And anyone who watches Austin Stevens show in television will never forget his face and daring snake catching skills.
Austin Stevens has spent days tracking snakes before he shoots his programmers for his television show.
But here is a man from Kerala, who has born with a talent to catch deadly snakes.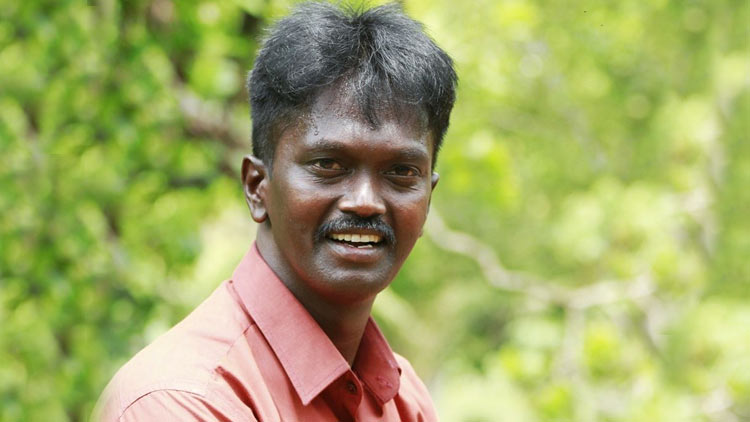 Has dedicated himself to an extremely dangerous and uncommon profession for over almost three decades.
Vava Suresh, as his mother lovingly calls him, has been rescuing venomous snakes, including the deadliest King Cobra, for the last 27 years.
Catching snakes and rescuing them safely and transporting them back to their natural habitat has been the sole obsession of his life.
Suresh was born in a small town in Sreekaryam in Kerala's Thiruvananthapuram. Today the 41-year-old Suresh is known as the Snake Man of Kerala.
The name is given by the locals who have witnessed him charming the poisonous reptiles for ages.
He is known for his missions for saving snakes straying into human inhabited areas in Kerala, India.
 SO FAR HE HAS RESCUED 50,000 SNAKES
You name it and he's always willing to catch it, this is the motto of this young man from Kerala. In the 27 years of his stunt with the snakes.
He has rescued thousands of King Cobras, the deadliest Snake on the earth.
A milligram of its venom can kill thousands of people in minutes.
He plays with them in his hands and he is believed to have captured and rescued more than 50,000 snakes which strayed into human habitats.
It is a passion for him, a passion he found it in his childhood. He was merely a boy of 12 when he first encountered a snake.
It all started for fun and in Suresh words it was a fascinating experience. Soon snake catching became an obsession for Suresh and over the years it becomes a full time profession.
Today Suresh have encountered with all the varieties of snakes in India. He has caught most of the snakes.
In his encounters with the wild snakes, he has some bad incidents too, he consider it as a bad dream.
HE WAS BITTEN 3000 TIMES
That sounds an exaggerated figure but that is a harsh truth. Suresh has been bitten 3000 times.
And close to 300 times by deadly and venomous snakes includes King cobra.
He spent days on ventilator and months in the Intensive Care Unit.
Three of his fingers melted due to the poisonous venom.
NO SAFETY EQUIPMENT FOR HIS AID
Look at the video, Suresh never uses any safety equipment, he catch the snake using his bare hands.
He believes that iron rods or the safety equipment will hurt the Snake.
And he is widely known for his conservation activities, especially rescuing and endangered species of snakes.
It includes preservation of collected eggs until hatching.
In the beginning he caught snakes from the nearby houses and he considered his act as a service to the humanity.
Within years his popularity and name as a snake catcher has grown and soon left his daily wage job and took snake catching as a full time job.
Suresh's day starts with a phone call from someone who has spotted a snake in their house or premises.
Sometimes these calls take him across the state.
He does not have a fixed rate for his service and he happily accepts whatever people give him.
He loves snakes and believes that he is doing a service to the humanity.
If you think snake catching is easy then you are wrong, it is a long process and mastering in the art will take years of practice.
Most of the days he have to travel long distance to reach the spot.
After reaching the place he has to find the hiding spot of the snake. Most of the time he did not take helps from anyone.
If the snake is hiding inside a hole he digs in a hole, all alone, as he fear others will be careless and will hurt the snake in the process.
There are instances he has to dig tunnels to 2 kilometers to catch the deadly snakes.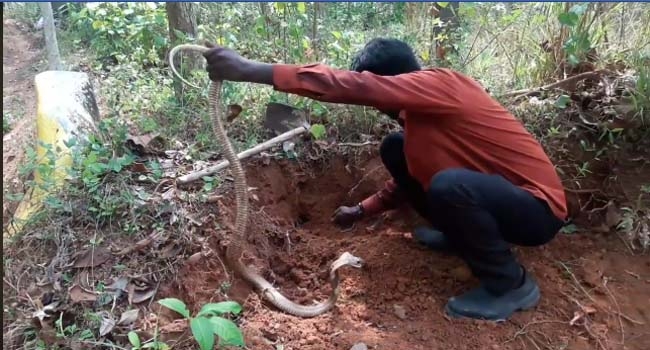 Another problem is most of the time the place will be filled with people to get a glimpse of the snake and to watch the charming snake catcher.
In many occasions police have to be called to control the crowd.
India is known as the land of the snake charmers. And Suresh too did not forget his roots.
After catching the snake, Suresh conduct a small show in front of the crowd.
It is a show he carries out with great care and affection it will be a treat for your eyes.
After few minutes of show, he put these snakes in to bags or plastic bottles and takes along with him to be released in the forest land.
Vava Suresh has got basic education he studied till tenth but today is an encyclopedia of snakes.
Suresh has a basic education he left his education due to poverty.
But today, his years of experience as a snake catcher made him an expertise in the field of conservation.
And he is widely known for his conservation activities and release of endangered species of snakes, preservation of collected eggs until hatching periods and releasing them into their natural habitat.
Today he conducts class to the students and creates awareness and educates people about the importance of the eco system.
And his work is widely acknowledge, he has written books on Snakes and it's behavior and is helping to wild life conserves and forest department to tackle the snake problems.
Vava Suresh service is so popular that he has a mobile app for people to contact him.
The app was created by the techno park with a tag line don't get frightened seeing a snake anymore.
This app was created to tackle the prank calls.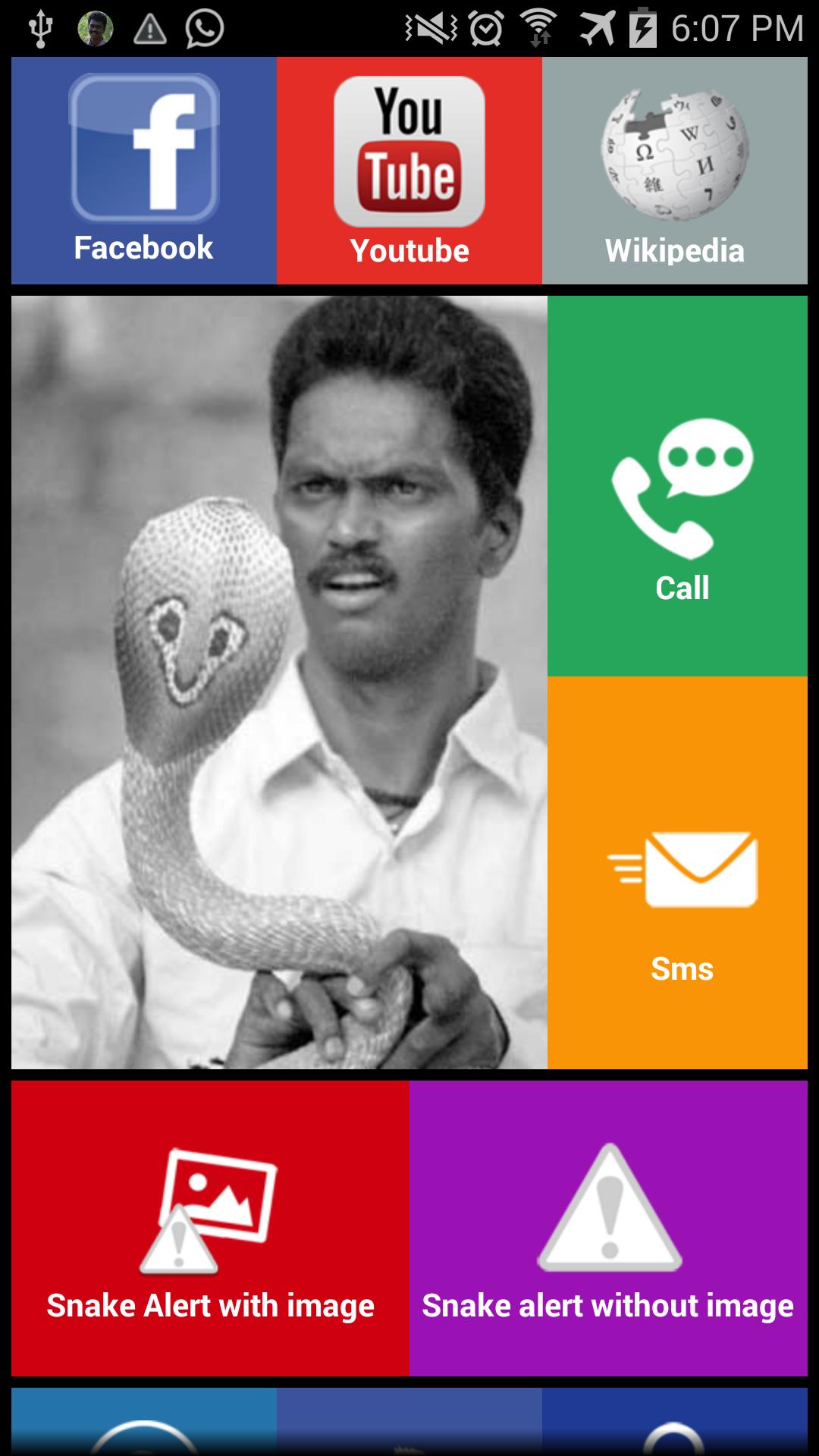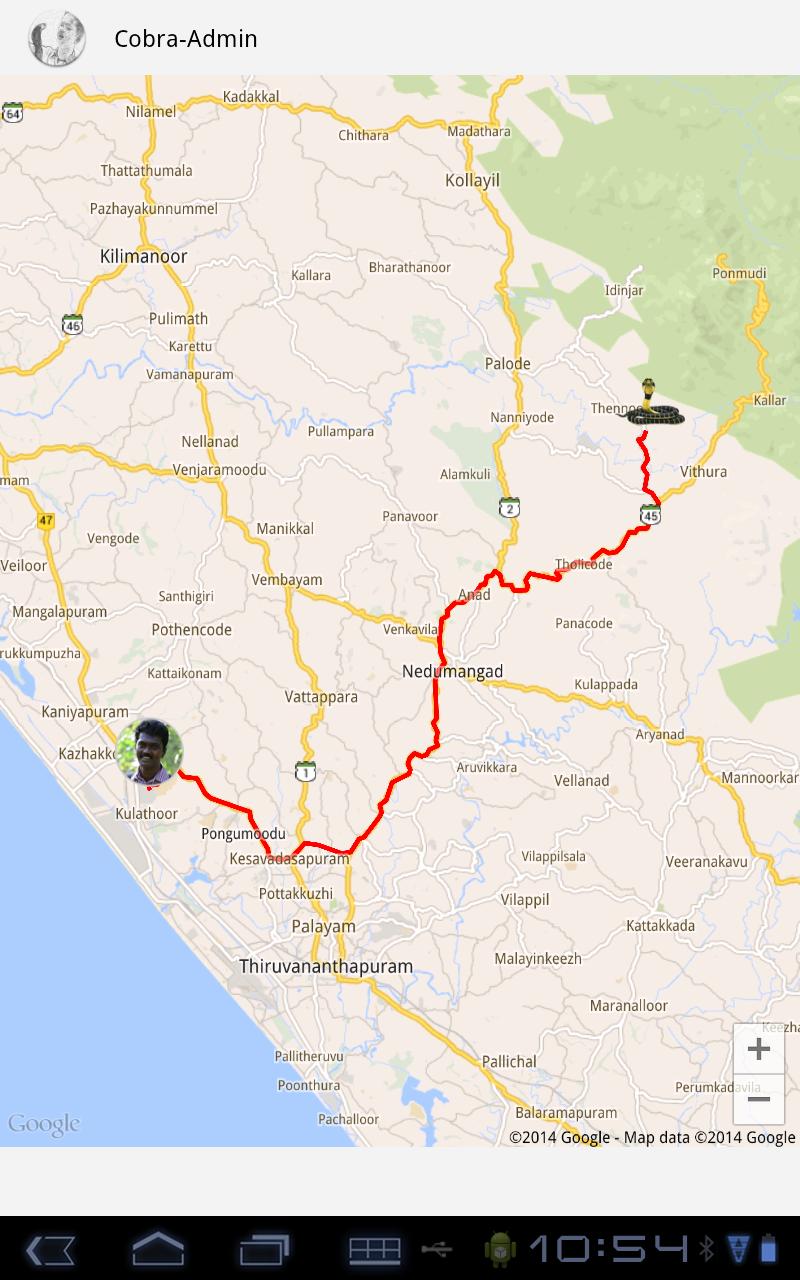 The application traces the shortest distance between Vava Suresh and the building where there is a snake alert.
The app is connected using Google Maps, making it easy for 'the snake catcher' to reach the destination faster.
The application also prioritizes the users' need to reach a message or alert to the snake catcher. A message including a picture of the snake can be sent to him using this app.
An advertising bar has also been included and the revenue generated from this will be used to fund the activities of Suresh.
In recognition of his service to the society, Suresh was offered a government job but he declined the offer as the job will be hindrance to help the society the way he wanted.
His name is beyond borders and on his visit to Kerala, Prince Charles met Suresh and spend 30 minutes with the snake catcher.
And Suresh was the star on the occasion of Prince Charles sixty-fifth birthday celebrations in Kerala.
Prince Charles was very keen in knowing the art of catching snakes without any tools.
Suresh showed him the trick, and planted a kiss on the deadly King cobra's head after he caught the snake.
The star image of Suresh landed him in to controversies too.
He apparently stopped snake catching following the negative news report spread in the media.
The news report published in Deshabimani and Chandrika alleged that Suresh sucks out the venom of the snakes he catches and sells it.
Soon he announced his voluntary retirement from serving the society as a snake catcher.
The news of his voluntary retirement spread like a wild fire.
People from all strata of life came forward and asked him to change his plans.
Due to the pressure from media and people across the state finally the newspaper apologized to him
His celebrity status and popularity does not reflect in his lifestyle.
He still lives in a small thatched house in Thiruvananthapuram.
Suresh does all these work at free of cost, he never charges anyone for his service.
Most of the people who call him are from the lower strata of the society most of the time they don't have any money to offer.
But Suresh has no complaints, he is doing a service to the society and he is happily doing it without any expectations.
Recently, he started hoisting a television show called Snake master in a local Malayalam local television channel.
It is gaining popularity among children and people across Kerala.